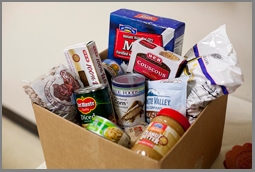 On the weekend of December 17th, 2016, 84 families from Third Church delivered meals to 84 families in Rochester's poorest neighborhoods! Those numbers are impressive, but what do they really mean? They mean that 260 children had a healthy, well-balanced meal at a time of the month when food stamps start to run low. They mean that these families, including 28 headed by single mothers and grandmothers, were able to give their children and grandchildren a little something extra – maybe even a present to put under the tree – because they didn't have to spend every penny to put enough food on the table.
On Sunday noon, February 12th, the Christmas Basket Committee sponsored a Soup and Salad lunch after church to review the 2016 Christmas Basket Program. About 40 people of all ages attended, and gave feedback
As folks sat together over lunch, they talked about their experiences in buying and delivering food to the city families. Nancy Watson won the prize for persistence; after sitting in her car outside a house, on three separate days, waiting for the resident to come home, a Social worker at the children's school was contacted and discovered the person was now homeless and hiding "on the run" from a dangerous person. What to do with the food?  Lynette located another family who was "over the moon" with gratitude.
Other stories:
Keira and Jason Mahar loved taking their own children shopping the for food;  (Wegmans ran out of Tuna Helper on Sunday night!) They delivered the food to a family from Zambia. During the visit the Mahar children helped to build a snowman with the family's children – and may visit again.
Every year is a new experience.  Nancy Thomas delivered food to a mother with four children. She has delivered to other families in previous years, but this year it was "awesome!" as the children came running to help, with hugs and much gratitude.
The Schafrath family delivered food to a grandmother and four grandchildren.  (This inspired Zach to then organize the sales team from his office to deliver food to another very needy family with 8 children.) Zach observed that it was hard to see children running around in a dirty house with little or no clothing. Zach said he felt blessed to realize how fortunate he was.
Cindy Capps said that in other years she has sometimes had a hard time locating an address.  This year she delivered to a house with no doorbell and a broken window.  When her car got stuck in the snow while making the delivery, the family came out to help her get going again.
New members Mary Ellen Frackenpohl and her son Jim were given the name of a grandmother with 8 grandchildren, including a small baby. Mary Ellen and Jim had a great time shopping for the family. When they delivered the food, they noticed that the house was full of children's books!  Mary Ellen said that the grandmother told her that "you'll never know how grateful I am for all of this" She and Jim are looking forward to doing this again next year.
Sheila and Rick Elliott experienced the thrill of watching a snowplow go down the center of a narrow Rochester street, leaving no place to park while making their delivery.  The doorbell didn't work, and the apartment was on the second floor. They were able to phone the family who came down stairs for the food delivery. Sheila was disappointed not to see the children. Sheila pointed out that this was the second address they had been given and reminded everyone how important it is to call the family before delivering to check the address and ensure that someone will be home.
Several people mentioned that they had included gifts with the food, and how much the gifts were appreciated.  Others commented that they were happy to involve their young children in giving to others.  Laurie Dietrich has carried this idea to a higher level. She and her adult son Matt go to Kohls early on Black Friday morning.  Matt stands in line, while Laurie picks out a basketful of household items at ridiculous prices. They then give the items to a RAIHN family that is just moving into a new apartment.
Sarah Krug commented that it is good that the church has this tradition. Although it may seem selfish, the feeling of just being able to do a food basket for a family brought her a sort of comfort and a sense that God is still working with us in this year when there is so much upheaval and dissonance.
Bill Pethick pointed out that the Christmas Basket Program does not require gifts; rather it is hoped that receiving food and a TOPS gift card will allow the family to use their own resources to provide some gifts for themselves.
Everyone thanked the Christmas Basket Committee (Rose and Bill Pethick, Laurie Dietrich, Bill and Carol Coons, and Ned and Sally Green) for all the work they have done through the years to make this program a success.
Sheila Elliott, who organized this February 12th gathering, with Linda Adams, Deb Allyn and Shannan Monrad, will head up the project next year. Next year the new committee plans to expand the Christmas Basket program provide more baskets to more families. If this program of helping others appeals to you, please consider getting involved. Contact Sheila to discuss how.
Sheila Elliott
585-750-0611
[email protected]
Rev. Lynette Sparks: Associate Pastor at Third Presbyterian Church
(585)271-6513 ext 106
[email protected]
For more information about this Outreach Mission, check out the website at
Christmas Baskets at Third Presbyterian Church