We celebrate the special seasons of the church year with great music and liturgy that brings meaning to the seasons of Advent, Christmas, Lent, and Easter.
Won't you join us?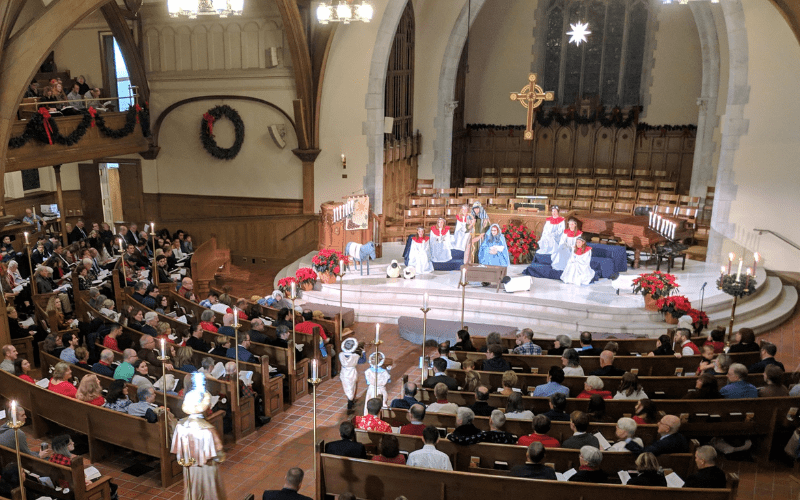 Christmas 2022
Monday, December 19, 2022
7:00pm, Service for the Longest Night - a meditative candlelit service of word and music that leads us gently into the week, recognizing that, for some, feelings of grief, isolation, stress, and more, can make holiday celebrations difficult. The service acknowledges the reality of those experiences and offers peace.
Christmas Eve, Saturday, December 24, 2022
4:30pm, A Christmas Story: Service for All Ages - a service designed with children and families in mind. It offers the opportunity for children and youth to participate. Pastor Rebecca will tell a story that culminates in the scene at the manger. All who would like to play a part in that final tableau are welcome! If your young person would like to participate, please email connect@thirdpresbyterian.org. 
8:00pm, Candlelight Service with Holy Communion - this lovely service of word and music will be in the sanctuary where we can assure proper ventilation and the ability to livestream. It will include the sacrament of Holy Communion, ending in the singing of "Silent Night" in candlelit splendor.
11:00pm, Candlelight Service of Lessons and Carols - our beloved service of Lessons and Carols adapted from the service celebrated at King's College, Cambridge returns to its regularly scheduled time, so that we might soar to beautiful music, hear a joyous word preached, and enter Christmas Day with candles and hearts alight.
Christmas Day, Sunday, December 25
10:00, Sunday Worship - Weekly worship does not stop for holidays! On Christmas day, we will worship as usual in the sanctuary and online.
Lent 2022
Ash Wednesday, March 2, 2022
7:00pm, Hybrid Service of Worship with Imposition of Ashes
(Please register to worship in person, or join worship on our YouTube channel)
Lenten Special Music, Sunday, April 3, 2022
10:00am, Hybrid Service of Worship with Holy Communion
The Chancel Choir will sing a devotional performance of Louis Vierne's Messe Solennelle (Op. 16) 
Palm Sunday, Sunday, April 10, 2022
10:00am, A celebratory Service of Worship starting with a palm processional. Meet at 9:45 in the Chapel if you would like to process with us.
Maundy Thursday, Thursday, April 14, 2022
7:00pm, Hybrid Service of Tenebrae (service of darkness) with music and readings for this most Holy Day.
Good Friday, Friday, April 15, 2022
12:00-3:00pm, Meditation on the Seven Last Words. The sanctuary will be open to drop in for a period of reflection, with prayers and musical meditations offered every quarter hour.
4:00-4:45pm, Exploring Good Friday with Children, an interactive event that walks children in kindergarten through fifth grade through Jesus' last week. This age-appropriate introduction to the story of our Lord provides meaningful context and storytelling for all who come.
Easter
Easter Sunday, Sunday, April 17, 2022
9:00am & 11:15am, Two Hybrid Services of Worship with joyful music, celebrating the resurrection of Jesus Christ.