Adult Spiritual Formation, September 2020
We are using online platforms for Adult Spiritual Formation gatherings during social-distancing.
We have a really marvelous lineup of Sunday Seminar speakers for the Fall.
Sunday Seminar—Sundays, 9:30-10:30am
(No seminar on September 6 or 13)
Sunday, September 20—Interim Pastor and Head of Staff Conley Zomermaand will give a presentation on some of the interim tasks that we will be undertaking as a congregation over the next few months. Join by Google Meet here or join by phone ‪(US) +1 224-442-3469‬ PIN: ‪433 466 141‬#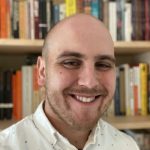 Sunday, September 27—Shane Wiegand will be presenting his talk on the practice of redlining in a presentation entitled, "Racist Policy and Resistance in Rochester." Shane teaches in the Rush-Henrietta School District, and is an adjunct faculty instructor in the URMC department of Neurology. He has researched, compiled, and taught Rochester's history of structural racism and resistance in his classroom for the past eight years. Shane has trained over two hundred teachers in anti-racist curriculum across area five districts, and is the co-lead of the PathStone Foundation's Antiracist Curriculum Project.  He and his wife live in the Beechwood neighborhood of Rochester. Join by Google Meet or join by phone ‪(US) +1 929-282-1411‬ PIN: ‪879 679 360‬#
Living in the Word—Sundays, 9:30-10:30am
Feeling stressed?  Isolated and alone? Scripture is full of stories of people of faith who cried out to God for help. Scripture reminds us that God is present with us. Scripture also challenges us to live lives of faith, pursuing justice and mercy for all of God's people and caring for all of creation. Although you may feel as though scripture is confusing, contradictory, or rather hard to hear (it can be all of those things) sharing scripture together and discussing how passages speak to us today is a vital aspect of living a life of faith. Even if you've "heard it all before," coming together allows the Spirit to breathe new life into familiar passages.  
Please join us on Google Meet (or join by phone ‪(US) +1 510-945-0169‬ PIN: ‪417 444 391‬#) each Sunday at 9:30 to share the scripture for that Sunday and ponder again what we hear, together.
Sunday, September 20—Matthew 20:1-16, Exodus 16:2-15, Jonah 3:10-4:11. "When life isn't fair"
Sunday, September 27—Philippians 2:1-13. "Keeping a good attitude"
Thursday Voices—Thursdays, 12:00-1:00pm
Thursday Voices will continue virtually via Google Meet (or join by phone ‪(US) +1 267-870-7240‬ PIN: ‪764 100 396‬#). To receive electronic copies of the articles for the month, contact Becky.